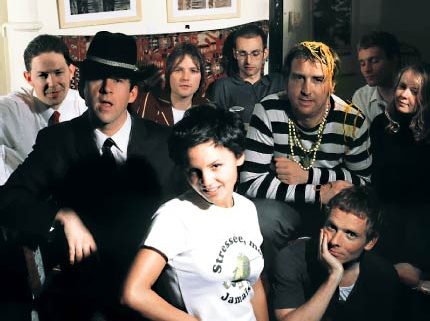 Belle & Sebastian – The Boy With the Arab Strap
Íslendingar athugið. Það er til enn kaldhæðnara og grárra samfélag en það íslenska. Við erum ekki heimsmeistarar í norpi, niðurrifi og bugun. Það eru að minnsta kosti aðrir keppendur á þeim ólympíuleikum og sumir af bestu leikmönnunum koma frá Skotlandi.
Þess vegna er Skotland æðislegt. Það er gráasta lifrarpylsan á markaðnum og ekkert skapar jafn skemmtilegan kontrast og þegar grá lifrarpylsa hnykkir sér til og frá í seiðandi búgí-vúgí takti.
Belle & Sebastian er tekið fyrir í nýjasta þætti Fílalags, sem tekinn var upp í lifandi flutningi frammi fyrir þyrstri hjörð. Hér var tekið á öllum mikilvægustu málunum. Kaffibarþjónsþrotinu, Amelie-toppnum og rúnkminni langveikra. En fyrst og fremst var þetta fílingur. Njótið.


https://filalag.is/wp-content/uploads/2019/09/belle-and-sebastian-1998.jpg
323
430
Snorri Helgason
https://filalag.is/wp-content/uploads/2018/02/filalag_logo-300x300.png
Snorri Helgason
2019-09-13 12:09:15
2019-09-13 12:39:47
The Boy With The Arab Strap - Lifrarpylsa sem dansar búgí vúgí (Live á Kex Hostel)