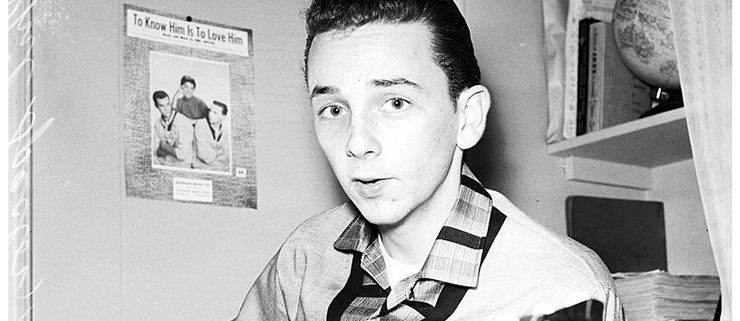 " Yfirvofandi" er fyrsta orðið sem kemur upp í hugann þegar hlýtt er á "To Know Him is To Love Him" sem er fyrsti smellur (af mörgum) úr smiðju Phil Spectors. Yfirvofandi, því þrátt fyrir angurværð lagsins sem svífur undursamlega inn í vitundina úr flaueli fimmunnar, þá finnur maður kraumandi sturlunina.
Phil Spector er í dag kannski þekktastur fyrir að vera morðingi eða maðurinn sem beindi byssu að Leonard Cohen og skipaði honum að syngja betur. En kannski er líka allt í lagi að minnast Phil Spector fyrir það sem hann gerði áður en geðrofið bankaði á dyr. Þetta er fyrsta lagið hans. Hann var átján ára, safnaði saman krökkum úr skólanum sínum og samdi, útsetti og tók upp þetta lag þessa eilífðarneglu. Átján ára gríslingur, með erfiðan bakgrunn. Pabbi hans fyrirfór sér. Á legsteini föðursins er ritað: "To Know Him Was to Love Him". Þetta sat í litlum Phil.

https://filalag.is/wp-content/uploads/2018/02/filalag_knowhim.jpg
400
740
Snorri Helgason
https://filalag.is/wp-content/uploads/2018/02/filalag_logo-300x300.png
Snorri Helgason
2014-08-22 12:22:18
2018-02-16 14:26:15
To Know Him Is To Love Him - Fimma. Flauel. Angurværð. Teen Dream. Bangsi lúrir.